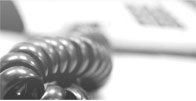 Ad-PRO™
Television and Radio Advertising
Ad-PRO provides Television and Radio advertisements by partnering with one of the leading ad agencies in America, Larry John Wright, Inc.. Every advertisement, customized for you by the Larry John Wright agency, is designed for high-impact and customer retention. These ads imbed your name, your brand, your presence and your mortgage Vanity telephone number into the memory of every person who sees and hears your ad.
Your ads are designed to generate immediate customer response. With the advent of digital media, your Ad-PRO package is broadcast ready for placement on Television and Radio. You can choose to have your ads run on specific Cable TV stations at specific times, dates, and channels based on your campaign budget. YourMore Leads® Account Executive will make all arrangements for you! Television and Radio advertising has never been easier.
How it Works:
Do I get the ads for free?
Yes*
How many Television and Radio ads do I receive, and how long are they?
You will receive 6 different Television and Radio ads for each Vanity toll-free number: Television ads are 30 second commercials, and Radio ads are 60 second commercials.
What do you mean by customized?
All advertisements are customized to your specifications with a photograph and a closing with your company description.
How do I receive my Television and Radio commercials?
They are customized and delivered by the Larry John Wright agency.
Can I have direct contact with Larry John Wright, Inc?
Absolutely. Larry John Wright, Inc. will even assist in placing More Leads

®

customer advertisements at 20% below retail cost. Advertisements may be used on Cable, Network Television, or any Radio station in America and Canada.
*Ad-PRO customized TV and Radio ads for Branch Offices may incur additional costs.