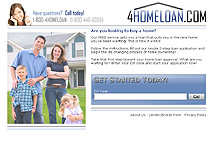 1-800-4 HOME LOAN
1-800-4 HOME LOAN is a remarkable Vanity number because it states exactly the type of products and services being offered. By making this statement with your Vanity number, you are telling your customer that they will get the Home Loan they need and want. 1-800-4 HOME LOAN really spells it out, and will be easily remembered by your borrower.
Vanity-PRO™:
1-800-4 HOME LOAN
A Vanity numbers with Vanity-PRO Customer Service
The www.8004HOMELOAN.com website makes the professional statement that you are a committed lender who is established in the industry. More Leads™ makes it easier for your customers to find you at these matching websites:
Web-PRO™: www.8004HOMELOAN.com and www.4HOMELOAN.com
Banner with text-ad placement and link
Immediate delivery of exclusive internet leads collected from your matching websites.
Ad-PRO™: 6- TV and Radio ads customized for you
Lead-PRO™: Loan Application Retrieval System- retrieves and catalogues your leads
Track-PRO™: The Real-Time internet Ad Tracking System - Know your ROI
Record-PRO™: Fast-Track and Target Train your Sales Staff
Optional Services available at very reasonable prices:
Geo-PRO™: Multi-Location Automated Call and Lead Distribution
Loan-PRO™: Automated after-hours Loan Application System
Loan-PRO PLUS™: Live Operator after hours Loan Application Service
This number is so easy to remember that referrals will continue to grow.