1-800-ToMoney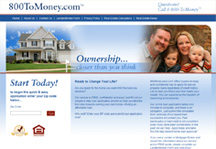 1-800-TO MONEY number definitely attracts attention! Any number with the word 'money' always commands immediate interest, and borrowers need money. When you say call to you at 1-800-TO MONEY, you are saying that you have the money available immediately, to satisfy their lending requirements. You also get the use of 877-TO MONEY.
The www.800TOMONEY.com website shows that you have the money to lend now, which gives the borrower the impression they do now have to wait for approval from the mortgage brokers banker, because you are the banker with the money. The 800-TO MONEY package also projects the impression that your company could be very large, making your company appear to be a very solid, safe and secure company to do business with.
Vanity-PRO™:
1-800-TO MONEY
1-877-TO MONEY
Two Vanity numbers with Vanity-PRO Customer Service
As a bonus, More Leads® offers you Banner presence and Leads on two different websites, making it easier for your customers to find you at the matching website.
Web-PRO™: www.800TOMONEY.com and www.TOMONEY.com
Banner with text-ad placement and link
Immediate delivery of exclusive Internet leads collected from your matching websites.
Ad-PRO™: 6- TV and Radio ads customized for you
Lead-PR™: Loan Application Retrieval System- retrieves and catalogues your leads
Track-PRO™: The Real-Time internet Ad Tracking System - Know your ROI
Record-PRO™: Fast-Track and Target-Train your Sales Staff
Optional Services available at very reasonable prices:
Geo-PRO™: Multi-Location Automated Call and Lead Distribution
Loan-PRO™: Automated after-hours Loan Application System
Loan-PRO PLUS™: Live Operator after hours Loan Application Service