1-800-YES I CAN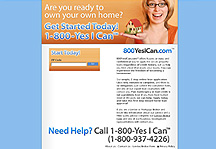 Single number lookup
The 1-800-YES I CAN Vanity number program is very powerful for attracting new home buyers of all ages. This Vanity number by itself is an empowering statement which will provide your company with many, many good leads and future clients.
When you advertise 1-800-YES I CAN, you are telling the borrower, "Yes, they can get a mortgage loan even if they have never owned before, for a good rate, with a low down payment, and good service. This unique number can be said in many ways in print and in Radio and TV. Consider the question in all first time buyers' minds:
"Can I qualify for a home loan?" "Yes I can!" You become the YES I CAN lender in your Market Area. This is the Vanity number that creates compound returns. Most first time home buyers have friends and relatives in the same situation; they want to own a home, but they are insecure about making that first step. Your success with give others the same empowerment, "Can I own a home….yes I can". I'm going to call 1-800-YES I CAN.
Vanity-PRO™:
1-800-YES I CAN
A Vanity numbers with Vanity-PRO™ Customer Service
Web-PRO™:
www.800YESICAN.com
Banner with link, and text-ad placement
Immediate delivery of exclusive internet leads collected from your matching websites.
Ad-PRO™: 6- TV and Radio ads customized for you
Lead-PRO™: Loan Application Retrieval System- retrieves and catalogues your leads
Track-PRO™: The Real Time internet Ad Tracking System - Know your ROI
Record-PRO™: Fast Track and Target Train your Sales Staff
Optional Services available at very reasonable prices:
Geo-PRO™: Multi-Location Automated Call and Lead Distribution
Loan-PRO™: Automated after-hours Loan Application System
Loan-PRO PLUS™: Live Operator after hours Loan Application Service