1-888-NATIONS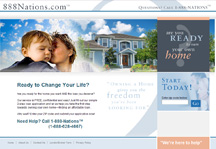 The Vanity number 888-NATIONS is the most powerful Vanity number for attracting borrowers for companies called 'Nations Mortgage, Nations Bank, or Nations Home Loans'. The Vanity number 888-NATIONS, depending on where the call originates from, rings directly to your main office or branch.
Having a Vanity number that matches the name of your company is a powerful message to send to your customers. It instills confidence through consistent brand recognition. 888-NATIONS will only be leased to a lender whose name is 'Nations'. All callers in your subscribed Market Area, looking for a home loan from a Nations company, will have their calls directed to your office.
Vanity-PRO™:
1-888-NATIONS
A Vanity number with Vanity-PRO™ Customer Service
The www.888NATIONS.com website allows you to advertise your company name and encourages customers to call your Nations lending institution.
Web-PRO™: www.888NATIONS.com
Banner with text-ad placement and link
Immediate delivery of exclusive internet leads collected from your matching websites
Ad-PRO™: 6- TV and Radio ads customized for you
Lead-PRO™: Loan Application Retrieval System- retrieves and catalogues your leads
Track-PRO™: The Real-Time internet Ad Tracking System - Know your ROI
Record-PRO™: Fast-Track and Target-Train your Sales Staff
Optional Services available at very reasonable prices:
Geo-PRO™: Multi-Location Automated Call and Lead Distribution
Loan-PRO™: Automated after-hours Loan Application System
Loan-PRO PLUS™: Live Operator after hours Loan Application Service